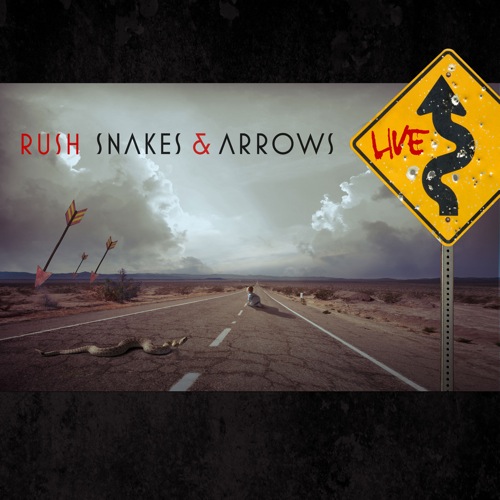 "Snakes & Arrows" was released in May 2007, and the tour behind it was launched shortly thereafter.  The live album and DVD was recorded in Rotterdam, Netherlands in October.  The setlist would be a bit divergent from the Vapor Trails and R30 tours by emphasizing their latest release most of all.  The Vapor Trails Tour included five new songs, while R30 included four; the Snakes & Arrows Tour featured nine of the thirteen tracks on the original album.  Only the Grace Under Pressure Tour before it put such heavy emphasis on a new release.
For all of Rush's live albums post "Vapor Trails", I've conceded that they're mostly for the hardcore fans and instead have pondered if casual listeners would still enjoy them.  "Rush In Rio"?  Definitely!  "30th Anniversary Tour"?  Possibly.  With "Snakes & Arrows Live" however, I think it might be a bit difficult.  This album has heavy emphasis on a recent release that mainstream fans probably won't be interested in, and also includes more obscure material that the band hasn't played in a while.  And while the performances are good, I concede there are much better recent performances of live staples like "Tom Sawyer" or "Freewill".
That being said, it's a thrill for a hardcore fan like myself to see the re-introduced songs and the "Snakes & Arrows" material rendered so well live.  After opening with the setlist staple "Limelight", Rush dives headfirst into obscure tracks and fan favorites like "Digital Man", "Entre Nous", and "Mission".  "Circumstances" from the "Hemispheres" album also makes an appearance before the end of the first set, "A Passage To Bangkok" is played during the encore, and "Ghost of a Chance" from "Roll The Bones" is included on the DVD and Blu-Ray.
And despite what I said earlier about the staple tracks, there are still gems to be found (this album contains perhaps my favorite live versions of "Freewill" and "Natural Science").  The "Snakes & Arrows" tracks are the star of the show however, and here they're hard-hitting and powerful.  "Main Monkey Business" and "Far Cry" almost bring the house down, and "Armor & Sword" sounds just as lush and beautiful live as it did on the record.
Does "Snakes & Arrows" have much appeal to the mainstream fan?  No.  But I'm delighted to see Rush not only write a great new album after their return, but to believe in it so much that they rendered it so thoroughly in their live show.  If you want to see an old band continue to not rest on their laurels and continue to push themselves creatively and musically, give this a listen.