Rush – "R30: 30th Anniversary World Tour" (Live)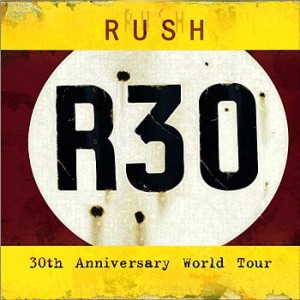 After the release of "Feedback", Rush hit the road for their "30th Anniversary World Tour", covering most of North America and Europe for the first time since their reunion.  Split into two legs, the band played almost sixty shows during the second half of 2004.  For the album and DVD, they recorded a show in Frankfurt, Germany.
At this point, you may notice a different trend with live records than what Rush has done up until now.  During their "classic" period, they would release four studio albums, then cap it off with a live record.  But since their reunion post-"Vapor Trails", they would begin to release a new live album after every studio album.  Also, they'd only release a recording of one show, as opposed to previous records which were often collections of shows.  I fully admit records like this are mostly meant to appeal to the hardcore fans, and if you're not one you may not be as interested in the subtle variety and differences in the more frequently played songs in the band's sets like "Tom Sawyer" or "The Spirit of Radio".
If you are a hardcore fan though, records like this are a treat, especially since the band made it a point to re-introduce one or two songs they hadn't played in a while to the set-lists (for "R30" that honor goes to "Between The Wheels").  Part of what I also respect about Rush is how they really do care about the new material they put out and include a lot of their new songs in the set-list too.  The tour behind "Snakes & Arrows" and "Clockwork Angels" would exemplify this best, but for "R30" they made sure "Feedback" got plenty of love with four songs included in the show (Alex's blistering solo on "Crossroads" is a definite highlight).
The band even found a way to satisfy fans of their earlier work who were disappointed that they don't play much from their early records anymore (rightfully so in my opinion, but I digress).  Rush got around this by opening the show (after a humorous video with none other than Jerry Stiller) with what they called "The R30 Overture", a medley of six songs, each one taken from their first six records (going in order: "Finding My Way", "Anthem", "Bastille Day", "Passage to Bangkok", and "Cygnus X-1 Book I & II").  This way we got the best stuff before they properly launched into "Spirit of Radio".
Like I said before, live records after this would probably have little to offer anyone who wasn't a hardcore Rush fan.  While they introduce a lot of new songs, a lot of it is still similar to the "Rush In Rio" set-list.  Other than that though, this album is a treat.  It has Rush celebrating their long history and back catalog, interjecting the covers from "Feedback" to make things interesting, and elicits certain performances that I consider the definitive live version of that song (particularly the show-closing performance of "Limelight").  If you're a big fan and want to celebrate Rush's 30th Birthday right alongside them, give it a listen.