My Night at Schuba's w/Joe Lally
They say to never meet your heroes, because you'll inevitably be disappointed.  I've usually managed to avoid this by having heroes so uncommon and obscure that they aren't famous enough to have an ego when they meet their fans.  I honestly wouldn't take the opportunity to meet someone spectacularly famous (like, I dunno, let's say Pete Townshend) because I honestly wouldn't have anything to say to them, other than to mindlessly babble about what a huge fan I am.  And what's the point in that?  If I can't say anything interesting to them I'd rather just admire them from afar, thank you.  When I met Henry Rollins after one of his spoken word shows at First Avenue back when I was in college, I got to chat with him about Radiohead's "In Rainbows" and he graciously signed my ticket stub.  That was good enough for me.
A guy like Joe Lally is different though.  There's a specific reason I wanted to meet him.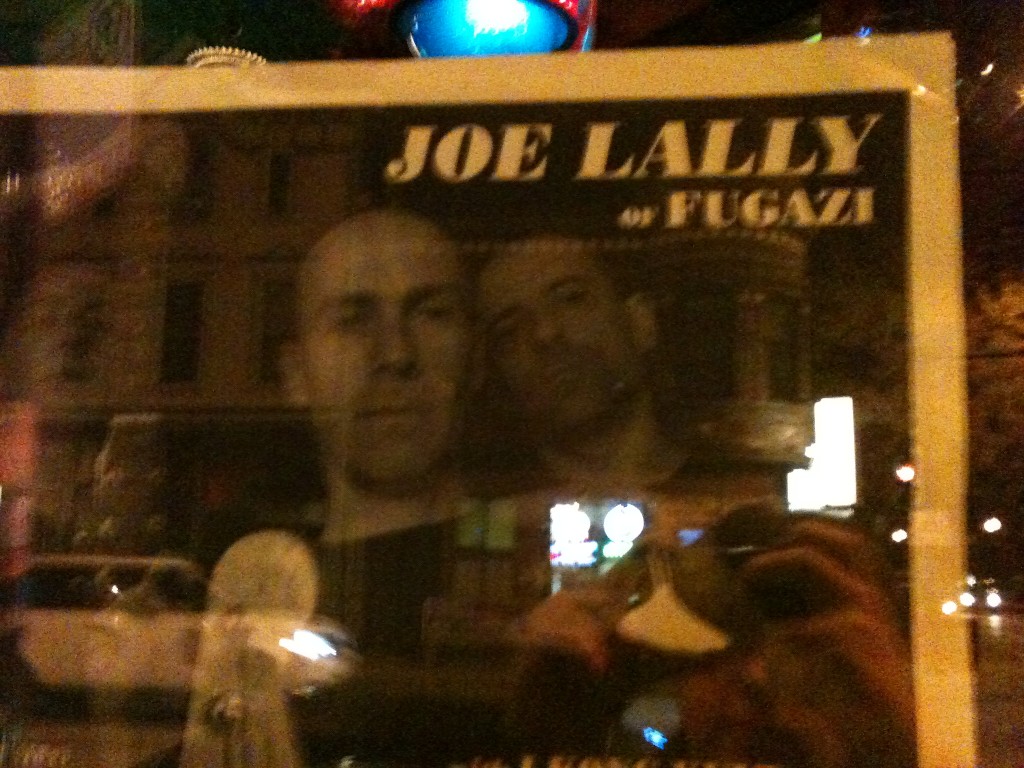 For those of you who don't know who Joe Lally is, I'll give you the cliff notes version.  Joe Lally is the former bass player of hardcore punk band Fugazi, a band formed from the ashes of seminal punk outfits Rites of Spring and Minor Threat.  Aside from making great music, they were famous for their pragmatic DIY aesthetic when it came to touring and promotion.  They often played shows in untraditional venues (art galleries, pizzerias, etc) and rarely charged above $5 for admission.  Since 2002 the band has been on indefinite hiatus while the members have taken time off to raise families and pursue their own solo projects.
I love Fugazi.  To me, they're the ultimate punk band.  They released their own records (through frontman Ian MacKaye's label Dischord), pushed the boundaries of what punk music could sound like, and tried to find ways to bring their music directly to their fans at an affordable (but also profitable) price.  Not only has their music been an inspiration to me, but also their business practices.  They showed that punk isn't an attitude or even a fashion choice (most of the band members are regular lookin' dudes who performed in street clothes), it's doing what you do and bringing it straight to the masses, no red tape or middlemen.  They make any rockstar cliche you can think of seem silly and trite.  Even their hiatus makes sense.  The band members are clearly still friends, but they're getting older and in a different place, so naturally they'd want to do something different.  Will they play again?  Who knows.  But the music they made isn't going anywhere.
I don't think it's insane to compare what Fugazi did as a band to what I, or other artists, are trying to do with webcomics.  In the end, we're trying to skip the red tape and bring our art directly to our fans and still make a living off of it.  To this end, I included a tribute to Fugazi at the end of the first "Oh Goodie!" book by having The Filthy F@#$ing Fairies unite the crowd in a sing-a-long of Fugazi's song "Waiting Room", the first song on their record 13 Songs.  To me, it was not only a shout-out.  It was a statement of purpose, and it's what I hope to achieve someday soon.
Joe Lally's bassline plays a HUGE part in the song.  And wouldn't you know it?  He's touring behind his new record and he's playing a show here in Chicago.  I decided I had to track him down and give him a copy.
The show was at Schuba's Tavern on Southport Ave. in the city, a bar with a concert hall in the back that a lot of local bands make their way through.  Tickets were $10, and I bought mine online just to make sure I had one…so imagine my surprise when I won a ticket through a Twitter contest held by the venue.  And the ticket I had already purchased was non-refundable.  D'oh.

I managed to beat the odds by finding decent parking right outside the venue for free (in Chicago this is a freaking miracle).  I arrived, ordered a Pabst Blue Ribbon (I'm not a cheap drunk, I'm just cheap), and sat down to catch the opening acts.  First was Helen Money, a woman alone on stage playing a highly processed cello.  Let me tell you, I never thought I'd see a cello kick into overdrive like Hendrix played "The Star-Spangled Banner" at Woodstock, but I saw her do it.

Next up was I Kong Kult.  They were some mellow, groovy cats.  They sounded like what a punk band would sound like if they suddenly started playing merengue music.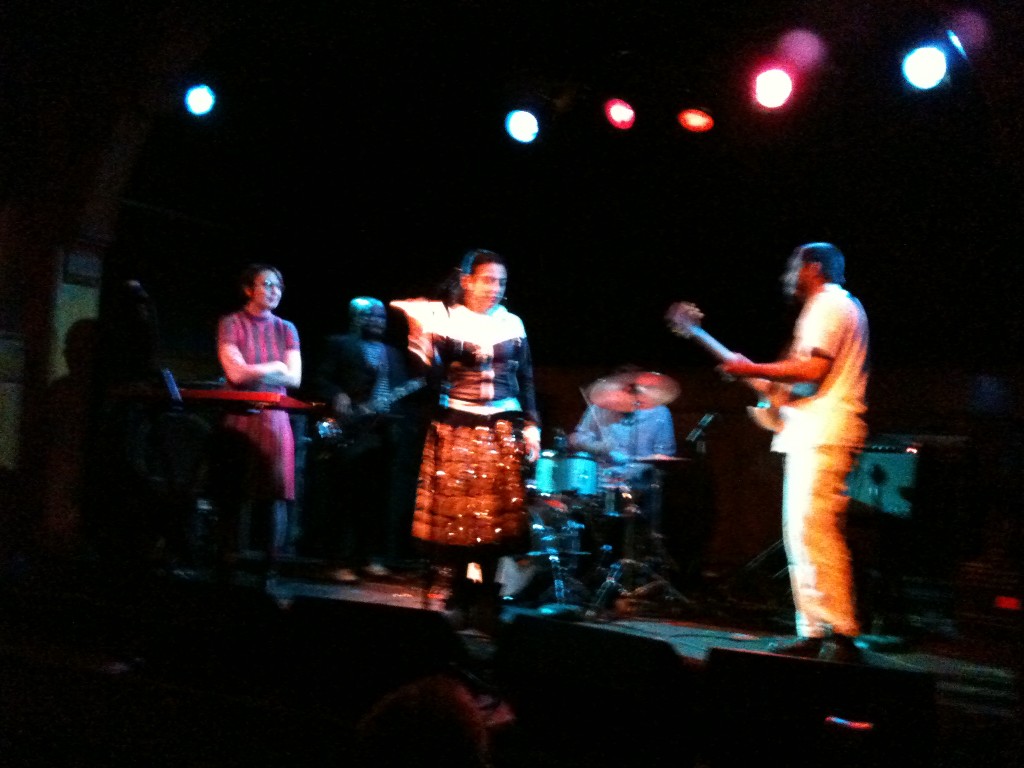 Finally the man himself came up on stage.  Joe himself is a tiny, quirky little dude.  Onstage he had a dry sense of humor and a bit of an oddball sensibility.  Between songs he'd drop a little witticism on us, and would laugh and point out if he did something stupid like mix-up the set list.  His solo records are often family affairs featuring lots of different musicians (including the members of Fugazi), so I wondered how he'd render his stage show.  Imagine my surprise when Helen Money joined him and his drummer to play the entire set.  A bass player and a cello player?  It's a duel of the four-stringed instruments!

Joe ended the show by dropping his bass, jumping into the middle of the crowd, and singing the last song "The Word" acapella.  Never have I cursed my camera phone for not having flash more, but then again that might have ruined his vibe.  The show was over.  Time to make my move.
I managed to flag him down as he was packing away his bass, and he jumped down from the stage to talk to me.  I introduced myself and told him who I was and what I did, and how "Waiting Room" and Fugazi factored into my book, and how I wanted him to have a copy.  He smiled and said that was really cool.  "I always wanted to do something like this," he said.  "It's a haul," I replied.  "I had to make this whole book myself because I can't afford to pay anyone else."  DIY taken to its logical extreme.
I decided to shake his hand and leave it at that without pushing further.  I already felt like I was babbling just describing the premise of "Oh Goodie!" to him alone ("It's like Archie if they said the word 'fuck' a lot), and I didn't want it to get worse.  I told him I liked the show and hoped he liked the book.  Then he said the one thing that almost pushed me over the edge.
"I'll have to show this to the other guys in Fugazi."
…
…I said "thank you", scampered back to my car, and giggled like a schoolgirl all the way home.